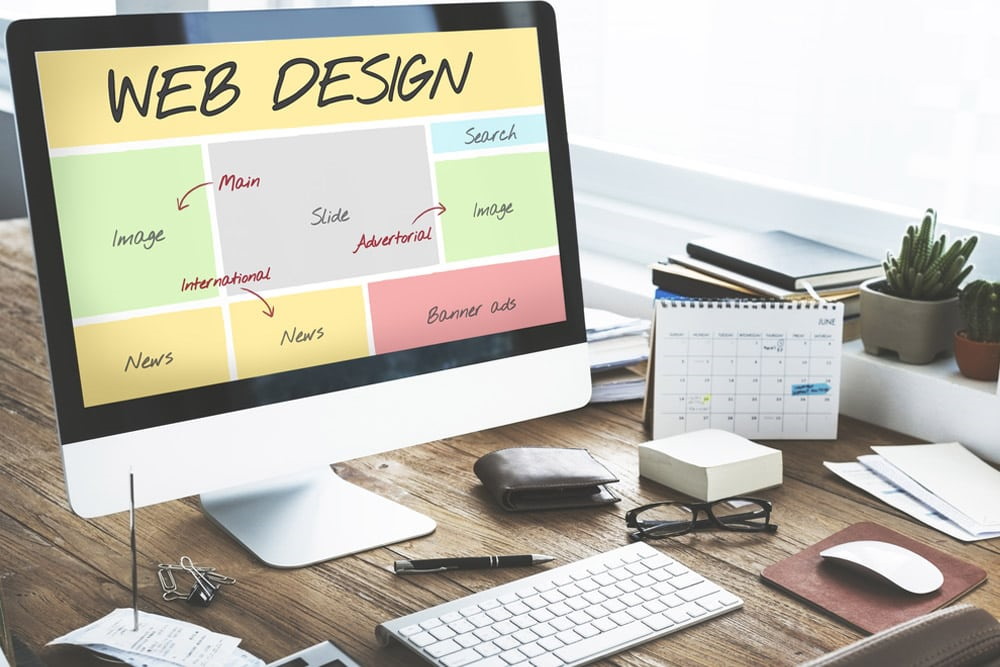 Your website is the digital face of your business. But given trends not to mention user demands are ever changing, if it's been some time since you created your website, it might no longer be up to scratch. Or, you may have realised building a website yourself isn't as easy as they make it look on the adverts!
If any of this is sounding familiar, your website could benefit from a complete redesign and you look into hiring a local web designer.
Here are 5 signs it's time to get your website redesigned to shed some more light.
You Have A High Bounce Rate
Nobody builds a website with the intention someone is going to open it and immediately exit it. Instead, we all picture our visitors taking the time to explore every page. The reality though, is that visitors not only have high expectations, but they also want to cut to the chase. If the page isn't relevant to what Google told them it would be about, they will be out of there like a shot.
Anything below 40% is considered to be an excellent bounce rate, though the lower the better - think of the bounce rate scoring system similar to a game of Pointless! The way your content is arranged and the overall accessibility are points to consider. Your homepage should be the jewel in your website's crown, and each other page should have a clear purpose and offer value to the user.
The Current Template Or Design Is Limiting
Depending on how you created your website, it may have been purpose-built or be a template you selected on the likes of Wix or WordPress. Even if it fitted the bill at the time, your user needs will have likely changed since then. For example, if you now want to add an ecommerce section or add a widget that's not compatible with the current design.
It's very frustrating when your template doesn't give you all the features you need. If you leave things as they are, your website could be underperforming or even hurt your revenue. Deciding to redesign your website might feel like a bold move, but it's the only way you can be truly satisfied with what you are ultimately paying to host.
Poor User Experience
If you want to give a great user experience for your website visitors, you need to make their journey around your site as seamless as possible. This means removing things such as lengthy menus, 404 errors and other general glitches. The better the user experience, the more time people will spend on it leading to a better chance of conversions.
When websites have been designed using really old or basic template makers, sometimes the glitches happen because of a browser compatibility issue. Updating browsers and other software keeps on top of malfunctions and security issues. But for some websites, this can mean your site no longer opens as intended because it's outdated. Therefore, a redesign is the only option.
It's Not Bringing In Leads
Whether you sell products through your website directly or want people to contact you to arrange an in-person service, your website should facilitate this at every turn. This can include using booking and contact forms, and listing your information in the header and footer which will appear on every page.
The approach to your website design can also bring in leads too. If customers are looking to purchase from you, they want to see clear images that are a direct reflection of your work. Or, have customer reviews displayed on the page to instil trust. There are many such tactics you can employ regardless of what it is you sell, and it all comes down to your website design.
Dated Design
While there's a definite retro charm about clipart or rainbow word art text, it's not the way to make a business look professional. At least not on this side of the millennium, anyway! Given web design trends change all the time, you might not even be aware your design is dated, or that it's even non-responsive.
Modern design is all about functionality. Users also appreciate the ability to switch to dark mode to reduce eye strain, especially since we are all spending more time than ever before on our devices. Above all, it should use high quality images that are unique to your business. Anyone can build a website with stock images and rehashed content, it's been there and done many times before. It's time to embrace the future with a brand new website redesign that's unique to your business.
To Sum Up
Now the time is the time to think to yourself: Is my website hitting it out of the park? If you can relate to any of the above points - it's probably not.
But don't worry, all is not lost! By consulting a web designer, you can redesign your vision from the ground up. That way, you can address any of the current pain points, and make sure your website truly sells itself.