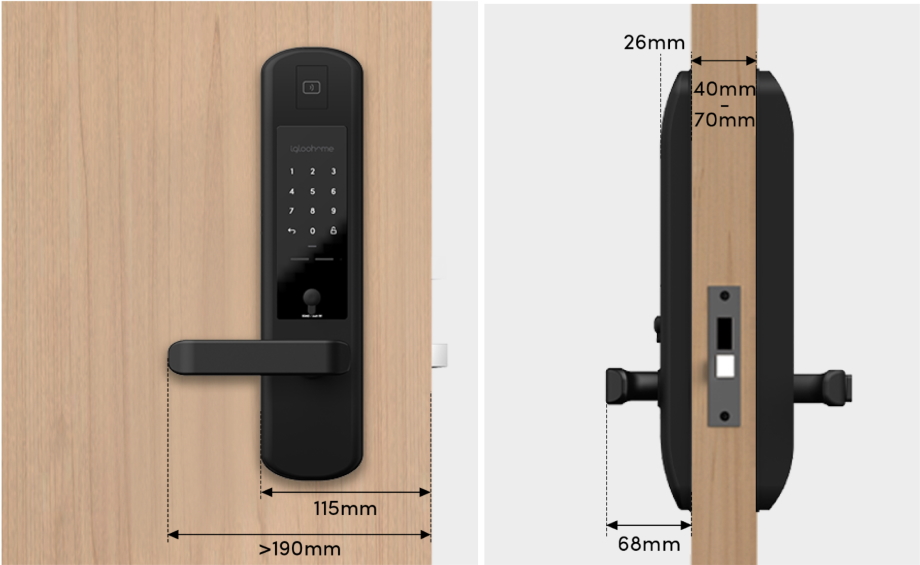 If you are looking to upgrade your home security, a good place to get started with is your front door. With the wide variety of technology available, now is the perfect time to consider switching your lock to a smart lock as well. If you are after something stylish, bold with that premium feel to it, look no further than the Igloohome Smart Mortice Lock version 2.
The Igloohome Smart Mortice Lock v2 is the latest addition to their wifi free, Bluetooth smart lock range. If you don't know much about Igloohome, the most important thing to know about it is, it can be integrated with Airbnb and has complete offline access and management.
Unlike the Smart Deadbolt 2S, the Smart Mortice Lock has a few more options for access. In addition to having PIN entry and Bluetooth, you can also use its specially designed RFID tags and stickers. Registering these RFID tags and stickers do require you to be next to the Mortise Lock as well as having your Igloohome app open on your smartphone at the same time. Making things easier and more flexible for you and your guests, you can have up to 56 of both RFID tags and stickers.
Use the Igloohome app to grant access remotely for PIN codes and Bluetooth keys. As is standard with all Igloohome products, choose to grant permanent, duration, one-time or recurring access. By customising access for each visitor, not only ensures the security of your property but it is also convenient and easy for all involved. This means no additional app for your guests, all you need to do is to provide them with the code via text, email or over the phone.
Lock modes are something that has been asked of frequently, and this lock has it all. If you have people coming in and out all day, you can activate the Smart Mortice Lock to be in passage mode. Passage mode means that the door will not lock automatically every time it is closed. The second mode it has is the keypad disabled mode. This one is great if you do not wish to be disturbed. It will remain locked from the outside, even when a correct PIN is entered. The third mode is good for pets and young children. Activate the safety function on the handle and it will prevent any accidental unlocks from the inside. Definitely a useful one to have.
API & SDK integration was something that wasn't included in the first mortice model, now it is. So if you need to integrate your v2 model into a platform, Igloohome can provide you with the right APIs and SDKs to make it all possible.
With an ingress protection rating of IP64, Igloohome recommends that the Smart Mortice Lock be installed under sheltered areas. It will continue to operate between -20°C to 50°C but if the temperature inside the property goes above the threshold, the Smart Mortice Lock will automatically unlock. This is called the fire alarm feature.
This Smart Mortice Lock uses eight AA Alkaline batteries, with an expected battery life of up to 18 months. Both the Smart Mortice Lock and the Igloohome app will warn you when the battery runs low. However, should you forget to change the batteries in time, you can jumpstart the Lock with a 9V alkaline battery, giving you enough time to enter your code and unlock the door.
The Smart Mortice Lock fits on any left or right swinging wooden door.
Door thickness needs to be between 40mm and 70mm.
Clearance from the edge of the door to the end of the handle must be 190mm.
Ready to upgrade? The Igloohome Smart Mortice Lock v2 is available from Secure Your World for $699 and free shipping across Australia.
Secure Your World is Australia's first online marketplace dedicated to all things security. It provides a broad range of products and services across Australia helping people to feel safe and secure at home, work, school, in the car and outside.