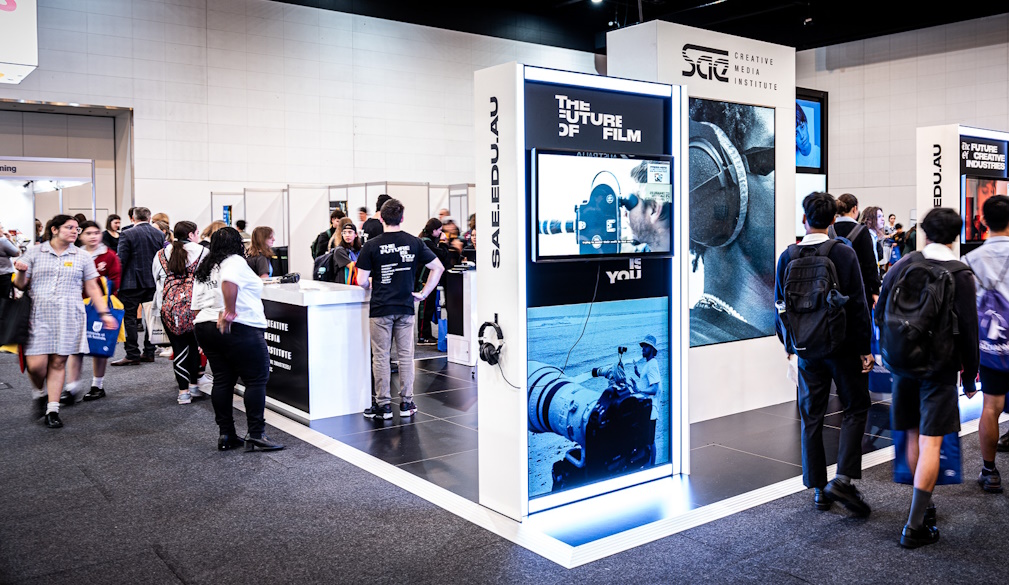 The leaders in creative media education, SAE Creative Media Institute, in partnership with Australia's number 1 exhibition company Expo Centric, have revolutionised their student career events with the introduction of a brand new and cutting edge stand, giving students the chance to create their own immersive experiences, unmatched in the education sector in Australia.
The 6 x 6 metre bespoke space features 4 touch screens, 8 LED loops and a LED video booth for students, parents and teachers to create a video that can be shared on their social channels. The booth gives users the option to choose one of 7 animated environments - including a red carpet, and a packed music venue -  allowing visitors to experience what their potential future careers could look like.
SAE Director of Marketing, Matt Langler was delighted with the results and commented that the Institute was keen to create a highly relevant and modern stand that appealed to the target market.
"Career expos are vital events for higher education providers, as they often signal the first opportunity to connect with and inspire future students" Matt said. "At SAE, we recognise the importance of creating and building experiences that embrace our core values of creativity and technology.
"Working with the team at Expo Centric, the resulting brand activation space reflects this, and gives students a taste of what a future career in the creative industries will be like," he added. "It's immersive, fun and offers students a chance to see first hand the variety of creative courses SAE offers."
Expo Centric CEO, Stan Kruss said the opportunity to collaborate with SAE gave them the chance to provide a truly bespoke offering.
"SAE's brief allowed us to get creative and provide several ideas to help capture the attention of people looking for new creative media education opportunities," Stan said.
"To support this, we built an immersive space within the stand, which included a huge LED screen room, allowing visitors to feel like they were in the space of their potential future career," Stan added. "Alongside this we created a range of information pods with touch screens, allowing visitors to interact with specific information quickly about SAE's courses."
With the return of many in-person events since the pandemic, Stan commented that he has seen a desire for greater face-to-face engagement and interactivity at events like career expos.
"We are finding there has been a return of the need for human interaction. With this, we have been able to integrate everyone's understanding of using technology and interactivity, using touch screens and other activations like SAE's LED room, allowing digital content to complement the face-to-face interaction and data collection that takes place."  
The future is you. If you're down to create it, study at SAE.
Find out more at
sae.edu.au