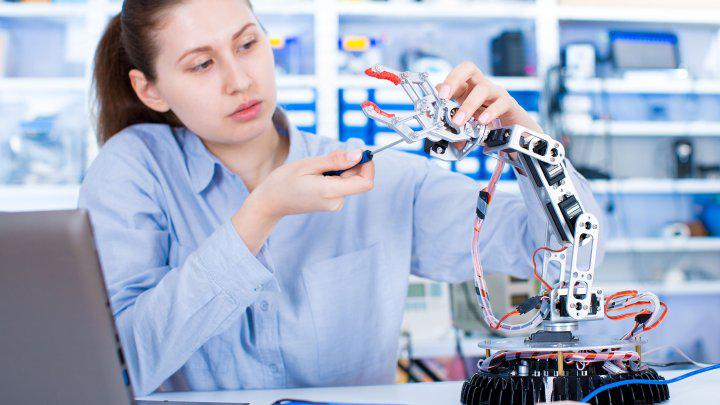 Having a Mechanical Engineering degree can open up job opportunities in many industries, including aerospace, oil and gas, medical technology and automotive engineering. Additionally, with a Mechanical Engineering degree, you can develop the essential skills needed to innovate and solve technical problems.


What is Mechanical Engineering?
Mechanical engineering is a widely applicable field of study, used in many industries from space exploration and energy companies to hospitals and automobile manufacturers. It dates back centuries, but with the modern world evolving rapidly, its applications have continued to grow. Mechanical engineering focuses on designing and building machines by understanding the principles of motion, energy, and force.

Those who choose to are likely to have an array of technical solutions available to them for whatever needs may arise. While earning a degree requires diligence and hard work, the pay-off more often than not comes with the ability to apply your skills. In its simplest form, mechanical engineering can be seen as being able to make something physical that solves a specific issue or improves our day-to-day lives in some way.

The potential job opportunities for those who receive a mechanical engineering degree are immense. Working in areas such as aerospace engineering, marine engineering, automotive engineering and chemical engineering, graduates of these degrees may find themselves employed in some of the most innovative and cutting-edge industries worldwide. With universities across the world offering these degrees it's no wonder that experts believe that for decades to come, there will always be a demand for these engineers.

No matter what kind of job you're looking for after completing your degree in mechanical engineering or whichever type of program you ultimately decide on completing, the possibilities are endless – if you put in the effort necessary to realize the potential embedded within your chosen field you'll open up doors that you may otherwise never know existed. With that said, let's explore different types of mechanical engineering programs out there today!


Types of Mechanical Engineering Programs
When considering what type of degree to pursue in mechanical engineering, potential students have a variety of options. Generally speaking, a mechanical engineer may choose to obtain a Bachelor of Science in Mechanical Engineering or a related field such as Industrial Engineering. Graduate level programs that offer more specialized education, such as master's and doctorate degrees are also available for those who want to take their studies in this field further. Generally, gaining an advanced degree will provide more career opportunities and higher wages than individuals with only bachelor's degrees

Those considering pursuing a degree in mechanical engineering must consider the time commitment needed to complete the program as well as the cost. Obtaining a bachelor's degree can often take four years or longer for full-time students, whereas earning a master's or professional/doctorate degree can require additional years of study. Furthermore, tuition costs may be quite expensive depending on the institution and location; however, many scholarships and financial aid packages are available to make it easier for students to pay the fees.

It is important to note that while some employers prefer graduates of traditional college programs over online courses, other companies now accept online degrees as equivalent to formal education. As such, those who feel they cannot commit to attending classes on-site might still consider pursuing a mechanical engineering degree online.

The decision as to whether one should pursue an online or traditional route can be based on several criteria: cost effectiveness; access to resources; preferred learning style; past academic performance; and availability of relevant courses in both formats.

With careful consideration and research into available options, potential students can decide which educational path suits them best before investing time and money into their studies. In making decisions about the appropriate type of program for them, aspiring mechanical engineers should also weigh the rewards that may come from taking on greater challenges through advanced degrees. By doing so, they will have taken an important step towards unlocking their potential and paving their way for successful careers in this field. Ultimately, pursuing any form of education in mechanical engineering will help put individuals on the pathway to success - both professionally and personally.


The Advantages of Earning a Degree in Mechanical Engineering
The advantages of earning a degree in mechanical engineering may be numerous, but the most obvious is the job opportunities that come with it. According to the Bureau of Labor Statistics (BLS), mechanical engineers enjoy a median pay of over $86,000 per year and have seen growth of 4% in job postings since 2018. With this promising outlook, there are strong incentives for those considering a degree in engineering to consider a mechanical engineering major.

In addition to future job opportunities, students who pursue a mechanical engineering degree develop an invaluable skillset. Problem solving, analytical thinking, and quick thinking are valuable traits expected of engineers regardless of their specialization. These skills translate well into other fields and build upon an already solid foundation. It not only sets engineers up for success professionally but also helps them become successful academically as they face increasingly difficult materials and concepts in higher-level courses.

Finally, it's important to note that engineers become well-versed in the technologies and software used by industry professionals when doing projects and assignments for their degrees. From computer-aided design (CAD) software to robotics programming languages, their knowledge will be a powerful asset when entering the workforce or even attending job interviews.

These advantages all combine together to demonstrate why pursuing a degree in mechanical engineering can prove so beneficial for any student who is passionate about the field. With its strong salary outlook, expansive skillset development, and cutting-edge technology involved; mechanical engineering is an excellent choice for college students everywhere. Ultimately, these benefits should help give any student contemplating this field a confident boost in direction as they move forward towards completing their degree in mechanical engineering and readying themselves for the potential success they will earn after graduation. As they look ahead towards this bright future, they should consider what knowledge they need to grasp and what specialized skillsets they want to cultivate in order to be prepared to take on any challenge that comes their way within this field; heading into exploring specialized skillset and technology needed within mechanical engineering and unlocking their potential is the next logical step.


Specialized Skillset and Technology
Earning a degree in mechanical engineering is beneficial because it enables professionals to gain specialized skills and the latest technologies in the industry. Professionals need to understand mathematics, thermodynamics, structural analysis, fluid mechanics and kinematics and be familiar with computer programming and software such as CAD. The most cutting-edge technology for mechanical engineers includes robotics, 3D printing, high-speed imaging systems and software programs for predictive maintenance. Mechanical engineers need to stay up-to-date on emerging trends and technology so they can take advantage of new opportunities to create innovative products with accuracy and precision in the job market.


Exploring the Job Market for Mechanical Engineers
For those considering a career in mechanical engineering, it's essential to explore the job market. The vast majority of available positions require post-secondary education in mechanical engineering or related fields. Some entry-level jobs may be available with only an associate degree or certificate, but the best opportunities and salaries will come with a four-year bachelor's degree. While many new graduates can manage to land entry-level roles with mechanical engineering degrees, those wishing to gain rewarding employment should first consider building experience through internships and apprenticeships before searching for full-time positions. While internships and apprenticeships usually do not offer much in the way of compensation, they can provide valuable experience and help candidates stand out from other job seekers who lack such skill sets.

The most sought-after positions within the mechanical engineering field are research engineers, design engineers, and development engineers. As more organizations aim to become more efficient and increase their competitiveness, finding innovative solutions is paramount. This has given a boost to the demand for engineers who can specialize in these roles. Engineers working in product development and testing laboratories also have opportunities to develop state-of-the-art products that often require a deep understanding of mechanics, electronics, and robotics among others.

Mechanical engineers are also in high demand within the manufacturing industry — both traditional and additive — where complex problem solving is necessary for efficient production line management. Those interested in pursuing a career as a manufacturing engineer must understand how to analyze processes, craft operational systems, assess cost metrics, create safety systems, test products line robotics automation technologies and adapt quickly to changing technology trends.

With the rise of Industry 4.0 — also known as the fourth industrial revolution — there is an increasing need for business owners and technical personnel alike to better comprehend advances in connected technologies such as artificial intelligence (AI), machine learning (ML) and Internet of things (IoT). It is important for mechanical engineers to stay up to date on these technological innovations so they may better market their specialty skillset when employed into positions outside of their major field as well as stay competitive while navigating the modern job landscape.

As this specialized skillset opens doors to numerous markets globally, individuals possessing technological expertise and sound knowledge of engineering principles will have an edge over those without it. With today's growing demand for robotic engineers, digital machine operators and lean operations specialists, such skill sets hold immense value across all sectors pushing the boundaries of innovation efficiently towards success.

Overall, exploring the job market for the mechanical engineering profession offers a world of possibilities for individuals looking for rewarding careers in this field. As technology continues to advance and organizations look to become more efficient and competitive with cutting edge innovations — now is an excellent time for those considering joining this field to pursue their ambitions through internships or apprenticeships before landing that full-time role that enables greater career growth potential. With that being said, finding the right entry-level role or internship requires an understanding not just of one's own technical aptitude but also of employer needs when it comes to hiring personnel – this includes having a clear idea of what companies expect from potential recruits at an entry level capacity – something we will discuss further within our next section.