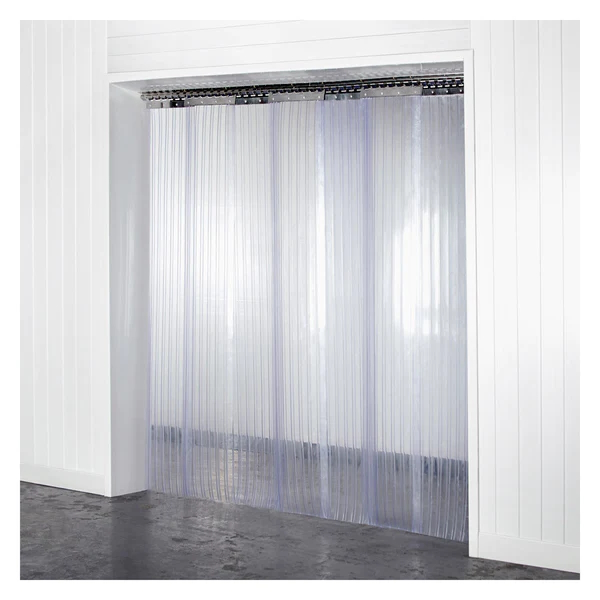 There are many benefits to installing strip curtains in a work environment, from regulating temperature to preventing the need to continually open doors and being dust, insect and temperature barriers. However, one benefit often overlooked is their ability to reduce noise transfer.
Strip curtains can be installed internally and externally to openings, with minimum premises disruption. They also require little space yet give easy access for pedestrians and vehicles without worrying about closing them.
Can PVC impact noise?
PVC strip curtains act as sound absorbers, insulating areas within your facility and protecting the surrounding areas from noise. They will also help you create spaces where employees can take breaks away from the noise within the business. If you need easy access to your working environment, but your production unit or factory is close to housing or other companies, a strip curtain will help keep your noise within your building! Or suppose you operate 24 hours a day or are particularly noisy at times; then you mustn't upset anyone in the locality and provide a more comfortable working environment for your employees and visitors not directly involved with the noisy part of the business.
A noisy working environment can damage productivity within neighbouring areas. If your machines are noisy and situated within earshot of your administrative teams, it can create a tricky working environment for them. Installing a simple, cost-effective solution, such as a strip curtain, is a great way to isolate areas from the noise of the adjacent space, especially when a wall isn't the answer. They are easy to install and generally offer the cheapest solution to segregate areas.
A legal responsibility to control noise
We have mentioned creating a better work environment and reducing the risk of noise complaints for businesses. Yet, there is a legal requirement placed upon business owners to manage noise risks and protect workers at particular risk from noise exposure. The regulations require you to provide equipment and resources to anyone likely to be affected by your operations and use effective noise-control equipment. Strip curtains fitted to prevent noise nuisance are a way to demonstrate that you take the matter of noise in the workplace seriously. It is a good idea to involve your workers in the discussions, as it may take time to make apparent that their health is being damaged by excessive noise. Administrative workers and those in the quieter areas, such as packing, may only fully understand the stress or impact that the noise has on their health, well-being and productivity once a change is made. Hearing loss can take time, and it isn't always easy to quantify the productivity loss caused by noise disturbance. Often it only becomes apparent that work productivity and mental health improves when the proper protections are in place.
Strip curtains are a cost-effective, simple fitting solution to aid noise reduction.
Strip curtains are one of the most straightforward barrier solutions in any workplace. They take up minimal room and require very little space as they open with minimal disruption to the surrounding area, with no need for space for wide door swings. They are fitted on a simple rail, are hardwearing, and require little maintenance. Replacement of individually worn strips is fast and straightforward, and they offer the perfect solution to protect areas from the adjacent interior or outside space. They are also safe for use in high-traffic areas with good visibility whilst having the ability to reduce noise, temperature loss, static shock and bacterial transfer or deter flying insects, too, with the wide range of additional strip curtains available.