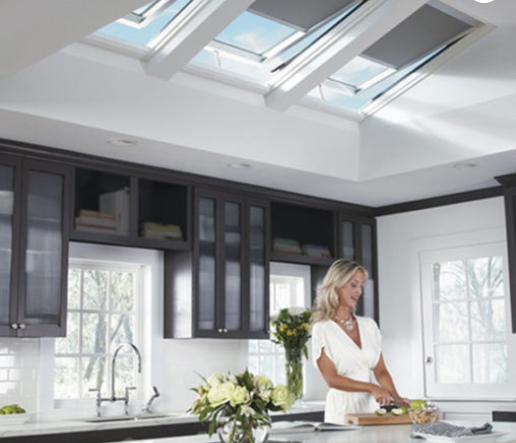 Ever walked into a room and felt as if you just entered a different world altogether? That's exactly the magic that skylight can cast into an otherwise ordinary room. Besides lighting up the room with natural light, they also create a much more open feeling of space. By adding glass to a low ceiling you can make it feel higher. Moreover seeing the sky through a high ceiling can almost give one the illusion of belonging to an outdoor space. Take your bedroom for instance. Think of the dreamy ambience a window above your bed can offer as you gaze at the stars or watch the clouds passing by. Having a skylight above the dining table could have you eating beneath the trees. There are countless ways of enjoying the skylight into your home.
At Velux Skylights, one of the most preferred names when it comes to Skylights in the entire area of Melbourne, you will be amazed at the array of choices being offered. Backed by years of experience and an unmatched level of service their skylights are not just famous for being the best in quality and affordability, but they are also committed to saving your hard-earned money. They have been perfectly designed to withstand Australia's harsh climatic conditions and are bound to perform superbly for an entire lifetime.
What are the types of Skylights that Velux Melbourne has to offer:
Manual Openable Skylights
They are the highly popular skylights offered by Velux. They are to be operated manually and provide the best of comfort and natural ventilation. Not to mention the energy savings because of free daylight.
Solar/ Electric powered Openable Skylights
Similar to the functionality of the manually openable skylights, these have the added convenience of remote control and built-in sensors.
Flat Roof Skylights
Equipped with the high-performance laminated glazing unit and an all-metal exterior frame, the Flat Roof Skylights from Velux is indeed a prized possession to have. Apart from giving a lower profile on the roof, the smooth exterior provides an optimum and literally 'cool' daylight solution by effectively blocking heat built-up and the harsh ultraviolet rays. As per your requirement, it is available in the fixed, manual opening as well as solar-powered opening options.
Fixed Skylights
These help in areas wherever there is already more than enough ventilation like the washroom. So a ceiling based fixed skylight works very much to the advantage.
Openable Roof Windows
Mostly suited in the attic spaces these kinds of roof windows which can be opened as and when desired make up for perfect loft living. It can completely transform the hardly used attic space to the most favourite hangout for kids and adults alike.
Sun Tunnels
Suited preferably to small spaces like corridors, stairwells, bathrooms and cupboards, these sun tunnels can really add a touch of class with its soothing look and feel.
Skylight Blinds
Skylight windows are great when you want light but rather difficult when you do not want it especially during harsh summer days of Melbourne. At such times it is best to think about Skylight Blinds. They not only provide shade but also reduce heat considerably. Velux Skylights Melbourne offers a wide range of Blinds for Fixed/ Openable/ Roof/ Flat Roof Windows. Make your own pick.