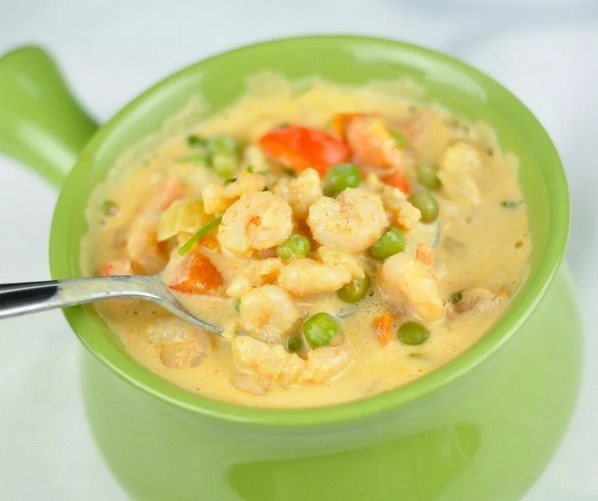 There is absolutely no doubt that food equals energy. But it's the quality, quantity and nutritional value of it that matter the most. Certain foods contain more nutrients that could help keep up your energy levels and focus throughout the day. Here are a few recipes that can be useful for that.
Some meals can be both comforting and nutritious, like this shrimp soup that is light yet satisfying. Shrimp is a great source of lean protein so it can keep you full longer, and it's also full of vitamin B12 like all seafood. The tomato base of the soup with the addition of coconut milk and spices make this soup a perfect meal after a long day. It has white rice in it as well for a good carb kick. And it only takes 30 minutes to make!
It may be hard to believe that but sweet foods can also give you energy. The example of it is this olive oil cake. This recipe is fairly simple and doesn't require a lot of ingredients so it can make for a good base for any additional flavors. The batter has almonds in it which are a known health food. They're one of the best sources of vitamin E which is vital for growing your hair and nails, maintaining youthful skin and naturally balancing hormones. Try the cake with any seasonal berries or fruit and decorate it with powdered sugar and flowers for a perfect summer cake presentation.
Another healthy and nourishing dinner option is a shrimp curry. As we said earlier, shrimp is an exceptionally good source of protein. One serving of this recipe contains whopping 28 grams of protein which is around 50 per cent of recommended daily amount. Curries are also known for their spices such as turmeric, ginger, cumin, garlic etc. Turmeric which is main ingredient of curry powders is a known antioxidant; ginger and cumin both have anti-inflammatory properties; and garlic is widely used to prevent and combat cold. Full fat coconut milk that is essential for the savory-sweet flavor of curries is a great source of fat which makes for a complete, balanced meal. Serve this delightful dish over basmati rice for the most enjoyable experience.