Written by

Dan Andrews, Visiting Fellow and Director – Micro heterogeneity and Macroeconomic Performance program, Crawford School of Public Policy, Australian National University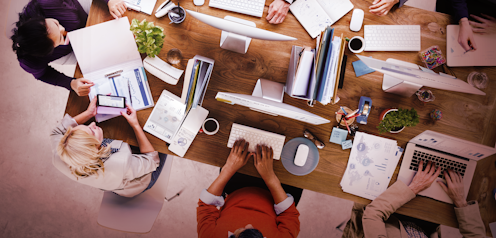 To many of us, "non-compete clauses" are for other people – TV presenters and chief executives; the sort of people who, if they left their employer for a competitor, would take with them inside knowledge and so must be stopped by a legal agreement, at least for a period of time.
Our concerning finding, reached as Australia's competition minister Andrew Leigh asks the Australian Competition and Consumer Commission and Treasury for advice on the extent of non-compete clauses in Australia, is that they may be even more widespread here than in the United States.
In the US, researchers from the Bureau of Labor Statistics have found an extraordinary 18% of workers are subject to non-compete clauses of some kind. They even apply where you might think they would not: to 9% of care workers, and 12% of US construction workers.
In Australia, in the first survey on non-compete clauses conducted using the same methodology as the US survey, we've found 22%.
22% may be an under-estimate
As with the US survey, because some workers might not know whether they are subject to non-complete clauses, we restricted our questions to those who had changed jobs in the past 12 months.
The job leavers were asked whether, as far as they knew, they were "not allowed to join or start a business in competition with" their former employer.
Restricting the survey to job leavers means that, if anything, our finding that 22% of the workforce is subject to non-compete clauses might be an understatement. Workers tightly bound by non-compete clauses might find it hard to change jobs.
Adding in those workers restricted in other ways – not able to poach former clients or co-workers (non-solicitation clauses) and not able to share their former employer's confidential information (non-disclosure clauses) – we found half of all Australian workers are subject to some sort of restraint.
Childcare workers, yoga instructors
As part of the research I and Bjorn Jarvis conducted for the e61 Institute, we asked legal practitioners to tell us how the use of restraints had changed over time.
They told us non-compete clauses had become more common and were now the default option in many employment contracts, applying to outward-facing junior roles in industries such as childcare and yoga instruction, in addition to more senior roles in law, finance and business services.
Our survey suggests they apply to 27% of trade union members, 43% of gig workers, and 26% of community and personal service workers.
Julian Smith/AAP
Once, non-complete clauses were put in place to protect legitimate business interests, such as trade secrets and client relationships.
But these days it seems they are increasingly also being used to stifle job mobility. While good for employers, as they face less wage pressure, it is bad for workers and Australia's productivity.
Workers who switch jobs get 8% more pay on average (and better mental health), yet the probability that the average Australian worker switches jobs has fallen from 12.8% in the mid-1990s to 9.5% in 2022.
And the benefits of being able to switch extend to workers who choose not to. The more they are able to switch, the greater their bargaining power.
The benefits also extend to the economy more broadly, as the reallocation of workers from less-productive to more-productive firms boosts aggregate productivity.
The US is considering banning non-compete clauses
In January, the US Federal Trade Commission proposed a ban on non-compete clauses, which it said could increase wages by US$300 billion per year.
The US Senate is currently debating a workforce mobility bill that would enshrine the ban in law.
In Australia, non-compete clauses are only enforceable if they can be shown to reasonably protect a legitimate business interest.
But in practice they exert a chilling effect. Around 40% of US workers are estimated to have turned down job offers from competitors due to non-compete clauses, even though they have worked in states where they are unenforceable.
Read more: How more job-switching could make us better off
In addition to taking advice about the impacts of non-compete clauses in Australia, Andrew Leigh is also investigating no-poach clauses.
His own research has found they are widespread within franchise operations including McDonalds, Bakers Delight and Dominos. This means that, for example, no McDonalds store is able to offer more pay to get a worker to move from another McDonalds store, leaving the workers themselves none the wiser.
Leigh's findings and ours suggest Australia's labour markets are more restricted than generally realised, with many of the restrictions imposed by employers.
Sweeping them away would be one of the easiest ways to boost productivity.
Source https://theconversation.com/1-in-5-australian-workers-have-non-compete-clauses-making-it-harder-to-get-better-paid-jobs-new-survey-207987