Written by

Justin Bergman, Senior Deputy Politics + Society Editor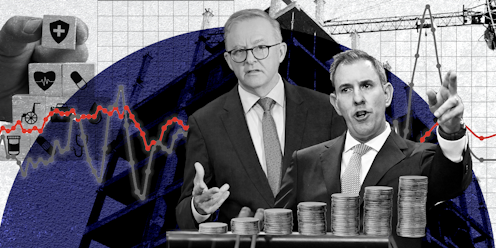 Treasurer Jim Chalmers has delivered his second budget with a heavy focus on cost-of-living relief for Australians who are struggling due to persistently high inflation and rising interest rates.
While Chalmers says the economy should continue to create jobs and unemployment is expected to remain historically low, inflation remains the top economic concern.
Chalmers says the budget is aimed at providing relief to Australians while trying to prevent adding to inflationary pressures (though some economists have expressed doubts that this will be possible).
Read more: Budget 2023: Budgeting for difficult times is hard – just ask Chalmers
The clear highlight of this budget is the government's $14.6 billion cost-of-living relief spending plan, which includes some of the major measures listed below.
The government is also forecasting a "small surplus" of $4.2 billion in this financial year, the first time it's been in the black in 15 years. However, this is expected to be followed by a deficit of $13.9 billion in 2023-24 – and forecasted deficits over the following three years.
Here are five charts to show how the current budget fits in with historic economic trends and other economic indicators. Following that is a breakdown of notable spends and cuts in the budget across specific portfolios.
Source https://theconversation.com/budget-2023-at-a-glance-major-measures-cuts-and-spends-205211