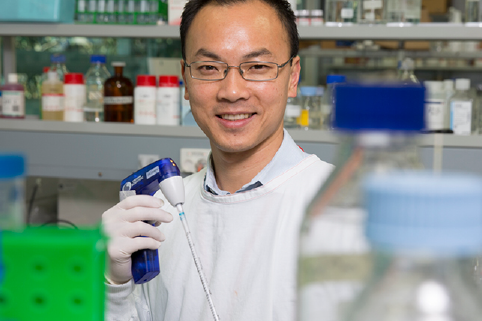 Sydney 29 April 2015. A new vaccine has proven almost completely effective in preventing shingles (disease medical name: herpes zoster), an extremely painful nerve infection which affects a third of Australians; most over the age of 50.
The research, published in the prestigious New England Journal of Medicine, shows that the vaccine, HZ/su, is 97 per cent effective over a three-year period, regardless of the age of the person vaccinated.
The vaccine has been developed using a new strategy involving a single viral protein and an immune stimulant that is directed towards white cells, rather than anti-bodies.
The executive director and chief scientist at the Westmead Millennium Institute for Medical Research in Sydney, Professor Tony Cunningham, has been involved with pharmaceutical company GlaxoSmithKline in the development of this vaccine strategy for over 20 years which, in part, is based on his discoveries of the key human white cells involved in control of such viruses.
"It's an unusual strategy that's had partial success in the past, for instance with the herpes simplex vaccine. However, our results are extraordinary and really justify this type of approach. It's the first time that we've seen this kind of vaccine strategy really work," says Professor Cunningham.
Shingles is caused by chicken pox virus which affects over 90 per cent of children. Rather than leaving the body, the virus gets caught up in small clusters of nerve cells near the spine and as immunity to the chicken pox virus wanes with age it reappears as shingles.
The individual lifetime risk of developing shingles is approximately one in three people; however, for individuals aged 85 and over, this risk increases to one in two people.
Over the age of 60 in particular it causes severe pain which may persist for over a year in about 10 to 20 per cent of people which may result in depression and loss of independence in the elderly. It also causes a nasty skin rash and – particularly if it affects the face – can cause problems with vision.
The HZ/su vaccine has been through Phase III clinical trials around the world. The trial was conducted over a period of three years and experienced no drop off in the efficacy over that time.
Further research is required to determine whether the vaccine continues to be effective over a longer term but medical researchers and GlaxoSmithKline (who will develop the vaccine commercially) are hopeful it could one day eliminate the debilitating disease completely.
"This is very exciting – it's one of those breakthroughs in getting highly efficacious treatments or vaccines that only come along every few years, particularly in this field," concludes Professor Cunningham.
About the ZOE-50 trial
The ZOE-50 (Zoster efficacy in adults aged 50 years and over)) study is a randomised, observer-blind, placebo-controlled (saline solution) multicentre, multinational (North America, Europe, Latin America, Asia-Pacific) phase III trial involving 16,160 adults aged 50 years and older. The study started in August 2010 and reported headline efficacy data in December 2014. Doses were given intramuscularly on a 2-dose schedule at 0 and 2 months. The primary endpoint of this study is the overall vaccine efficacy (VE) of the candidate vaccine HZ/su across all age cohorts compared to placebo in reducing the risk of developing shingles. The study includes subjects in the age ranges 50-59, 60-69, 70-79, and 80 years.

About the phase III HZ/su study programme

Involving more than 37,000 subjects globally, the phase III programme for candidate vaccine HZ/su will evaluate its efficacy, safety and immunogenicity. In addition to older adults, HZ/su is being evaluated in immunocompromised patient populations, including solid and haematological cancer patients, haematopoietic stem cell and renal transplant recipients and HIV-infected people.
About shingles
Shingles typically presents as a painful, itchy rash that develops on one side of the body, as a result of reactivation of latent chickenpox virus (varicella zoster virus, VZV). Anyone who has been infected with VZV is at risk of developing shingles, with age and altered immune system being recognised as the main risk factors.vi Complications from shingles can include PHN, (the most common complication).iv, scarring, vision complications, secondary infection and nerve palsies.
Data from many countries indicate that older adults (aged 50 and over) are at risk of Herpes zoster since more than 90 per cent have been infected with wild type VZV ,v, . A person's risk for shingles increases sharply after 50 years of age. Risk of complications, including PHN and hospitalisation, also increase with age. The individual lifetime risk of developing HZ is approximately one in three people; however, for individuals aged 85 and over, this risk increases to one in two people.
About the Westmead Millennium Institute for Medical Research
The Westmead Millennium Institute is one of the largest medical research institutes in Australia, conducting research into a wide range of important human disorders affecting both adults and children. Our research spans cancer (including melanoma) and leukemia; infectious and immune diseases; liver and metabolic diseases; eye and brain related disorders; and heart and respiratory disorders. Our bench to bedside philosophy ensures patients benefit from our latest research discoveries. The Westmead Millennium Institute is proudly affiliated with The University of Sydney and Westmead Hospital.
More information is available at www.wmi.org.au.