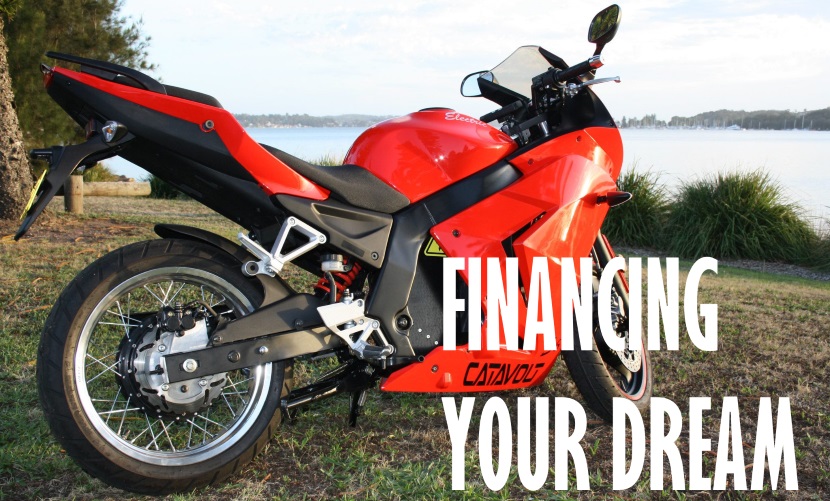 Huge numbers of Australians use motor cycles for fun, work and commuting. Bill Tsouvalas from Savvy Bike Loans explains strategies to consider when financing your motorbike.
For some, a motor cycle represents a genuine low cost option to get on the road. Motor cycle registration is cheaper than for a motor car and they use substantially less fuel. For those reasons, city dwellers and people in regional areas opt to buy a motor cycle as a first transport purchase.

Often the decision to buy and look around for best finance for a motor cycle is based on the fact that not everyone needs a car. City folk do not need a large family car or an SUV and are fine with a small motor bike to get around. When used to get to work, a motor cycle is more nimble in heavy traffic and can easily keep up with the speed of cars in built up areas.

These urban people enjoy living in the city, many, including students, often have little access to affordable car parking so a much smaller motor cycle will be the logical choice for personal transport.

It is important to shop around for a motor cycle and while doing so, to get the best advice on what motor cycle size, model, brand and configuration will suit your motoring goals. At the same time, it is wise to seek professional motor cycle finance advice to ensure that, having bought the bike at the right price, you do not pay too much to establish a motor cycle loan and have found the best possible motor cycle interest rate in Australia.

It is not sensible to haggle over the price of a motor cycle and then ignore help from professional motor cycle finance brokers who know the Australian motor cycle finance industry.

A small vehicle finance professional will know what lenders are best to help with a loan to get a young person on the road with a low power scooter to use in the city. An online expert finance professional can save money in most cases by knowing who to go to instinctively for the best rates. Look around online for motor cycle finance and call the lenders that know the motor cycle industry first.

For many years now, owning a motor cycle has allowed young, middle age and older people with more leisure time, to join a social motor cycle club to go on group Sunday rides, long weekends away and to participate in motor cycle clubhouse social life. Owning a touring motor cycle is much cheaper to achieve with expert touring motor cycle advice. Finance businesses have their own specialty. One business might have better rates for older people who ride touring bikes socially and another will be better for commuting motor bikes.

On the other hand a young man or woman who spend weekends in the bush with a dirt bike or off road motor cycle are a different prospect and lenders may have special terms for more adventurous motor cycle riders.

The major motor cycle manufacturers have in-house finance options that their dealers are obliged to push to motor cycle buyers in all categories. Harley Davidson enthusiasts and riders pay a lot of money for the "ride" and whether it for club rides or solo touring, there are good ways and not so goods ways to finance the bike. Do not always take motor cycle dealer finance without getting a second opinion. Getting good advice can make the cost of ownership and the running costs of a motor cycle much less for wise buyers.

Anyone who rides a motor cycle will need insurance. Motor cycle club members, commuters and off road bike riders certainly need to look into what events should be covered by insurance. Not just accident, fire and theft coverage but damage to other vehicles or people. Most motor cycle finance providers assist their customers with insurance quotes.

Motor cycle owners represent a large percentage of the total number of road users. Getting a motor cycle loan to take to the road on two wheels can be easier with the best advice.

Knowing that you have bought wisely, become a customer of the best motor cycle finance business and have top insurance coverage with competitive rates, makes hitting the road so much more enjoyable.
Social motor cycle clubs offer riders companionship with like minded people. As a part of a group of local like minded weekend motor cycle riders, members are encouraged to explore Australia on a solo bike, a side car motor cycle or even with a new friend as a pillion passenger.
There are more motor cycle clubs than most motorists know. It is where enthusiasts can meet new friends. There is a group in most parts of Australia made up of bike owners who share their knowledge and weekends with friends on adventurous club rides or short trips. Quite often the club rides start with a Sunday early wake up and a quick start on the road to a favourite meeting spot where members get together to prepare for the ride itself. For many, owning a motor cycle has opened up a new phase in life. New friends and new places to visit on what would otherwise be a lonely weekend sitting at home.
Motor cycle finance brokers can offer group discounts to motor cycle clubs if they approach a lender as a group, to finance or refinance their motor cycles.
Members have been known to form long advantageous customer to lender relationships with a vehicle finance source who understands their needs and is available for them online or on the phone.