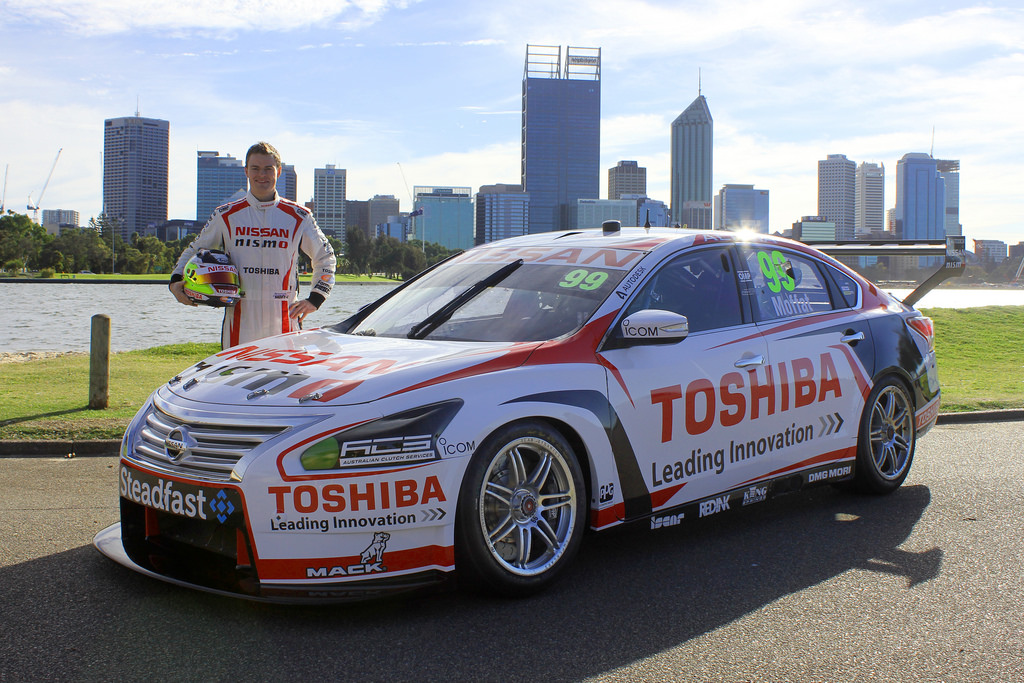 28 April 2015. Nissan V8 driver James Moffat will sport new primary sponsorship, commencing at the Barbagallo Raceway meeting in Perth this weekend.
Moffat's car will include Toshiba branding on the flanks of his #99 Nissan Altima V8 Supercar.
The new sponsorship deal is the result of a new agreement between Toshiba and Intel Security. The agreement will benefit all Toshiba new customers who are offered 30 days free access to Intel Security's pre-installed McAfee LiveSafeTM product, which is one of the leading security products in the world. When they purchase a Toshiba notebook or a tablet via a retail outlet, they can purchase the software easily online after the trial period.
The new major association with Nissan Motorsport will commence at the Perth Super Sprint this weekend.
James Moffat, #99 Toshiba Nissan Altima V8
"It's great to have the support of Toshiba during this next phase of the V8 Supercars Championship," said James Moffat.
"Toshiba has been a long-time backer of myself and Nissan Motorsport so to be able to take them to the next level is something that I'm really proud of.
"We kick this new deal off at Perth's Barbagallo Raceway, and it's a circuit that I really enjoy. It definitely comes with its own unique challenges, and we know how tough the competition is, but we'll certainly be giving it our best shot."
Rob Wilkinson, General Manager Australia & New Zealand, Toshiba
"Toshiba looks forward to working with Intel Security as a result of this multi-year agreement," said Rob Wilkinson. 

"The McAfee LiveSafe product from Intel Security will help our customers have a safe and secure experience whilst using their Toshiba devices on the Internet. Toshiba has had a long standing relationship with James Moffat and the synergies between motorsport and McAfee LiveSafe are very similar as they are both focused on safety and performance.
"We look forward to the event in Perth and wish James continued success on the track."
David Freer, Vice President, Consumer APAC, Intel Security
"Toshiba's strong consumer device offering is an excellent match for Intel Security's range of digital protection services," said David Freer. 
"We're pleased to announce that Toshiba customers across Australia and New Zealand can now benefit from a 30-day free trial of our McAfee LiveSafe service pre-installed on all Toshiba PCs. McAfee LiveSafe provides comprehensive protection against online threats, across an unlimited* number of PCs, tablets and smartphones in your household."
*Subject to limitations on reasonable use and purpose of the product.