Alloys to Showcase MakerBot 3D Ecosystem at Events in Adelaide, Brisbane, Melbourne and Sydney in March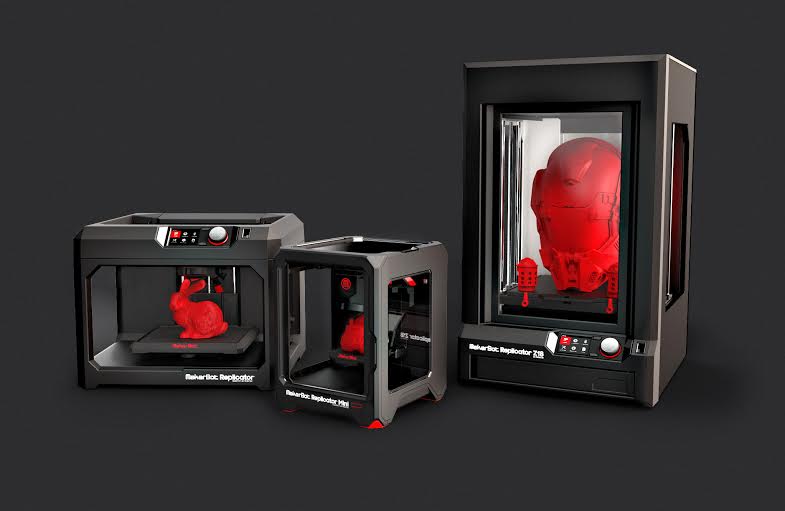 Brooklyn,N.Y., and Melbourne, Australia, March 4, 2015 — MakerBot, a global leader in the desktop 3D printing industry, is expanding its international footprint by adding Alloys as a distributor of its MakerBot® 3D printing and scanning products in Australia. By appointing Alloys as a distributor, MakerBot believes it will be able to expand its footprint in Australia to a broader range of technology resellers and strategic partners.
MakerBot is excited to work with Alloys and believes the company's approach to distribution will bring the possibilities of 3D printing to educators, professionals and consumers throughout Australia. To introduce MakerBot 3D printing and scanning products to new resellers and the press, Alloys is hosting MakerBot 3D Ecosystem showcases throughout the month of March with presentations, product demos and networking opportunities in its showrooms in Melbourne (March 5), Brisbane (March 10), Sydney (March 12) and Adelaide (March 19). Resellers and press interested in attending one of these MakerBot 3D printing showcases should contact Alloys at +61-1300-118-308 or info@makerbot3d.com.au.
"We believe that with a network of more than 1,000 resellers and four showrooms in major cities throughout Australia, Alloys will help us expand our business in Australia," noted Mark Schulze, general manager of the Americas and Emerging Markets for MakerBot. "Alloys has 30+ years of experience in technology distribution and has close connections to the education, design and engineering vertical markets that align with MakerBot's core customers. This approach is exactly the kind of mindset we were looking for to help us make further headway into the Australian market."
Paul Harman, CEO of Alloys, stated, "We're thrilled to partner with MakerBot, a market leader in the 3D printing industry, to offer our resellers a comprehensive 3D printing portfolio. Alloys has a long history of working with resellers in traditional and large-format printer channels, catering to design and engineering professionals, a market sweet spot for MakerBot.  We think partnering with MakerBot will provide us with a great starting point to grow the 3D printing market in Australia. The MakerBot 3D Ecosystem is a market distinguisher and helps make 3D printing accessible in more ways than any other 3D printer brand on the market, which is a key selling point in what our resellers are looking for." 
Alloys will distribute MakerBot Replicator® 3D Printers, which include the MakerBot Replicator Desktop 3D Printer, the MakerBot Replicator Mini Compact 3D Printer, the MakerBot Replicator Z18 3D Printer and the MakerBot Replicator 2X Experimental 3D Printer. In addition, Alloys will offer the MakerBot Digitizer™ Desktop 3D Scanner, MakerBot PLA and ABS Filaments, and other MakerBot 3D printing accessories and will provide localized product training and support.
MakerBot customers in Australia already include engineers, architects, designers, educators and consumers, who use MakerBot Replicator 3D Printers for Real-Time Prototyping™. Melbourne-based design firm Chijoff+Co, for example, recently 3D printed 80 prototypes of a new product on its MakerBot Replicator 2 Desktop 3D Printer before taking the next step and producing the final prototype in a high-tech polymer. Founder Michael Chijoff said that having access to 3D printing on a MakerBot Replicator 2 saved the firm approximately 3 months in the design process and close to $10,000 in prototyping costs just with the ability to 3D print in-house.
MakerBot is a global leader in the desktop 3D printing industry and was one of the first companies to make 3D printing accessible and affordable. MakerBot now has one of the largest installed bases and market shares of the desktop 3D printing industry, with more than 80,000 MakerBot Desktop 3D Printers in the world and a robust MakerBot 3D Ecosystem that combines hardware, software, apps like MakerBot PrintShop™ and MakerBot Mobile, materials, training, support, consulting, retail stores, partnerships and Thingiverse, the world's largest online community for 3D printing, in order to make 3D printing easy and accessible for everyone.
About MakerBot
MakerBot, a subsidiary of Stratasys Ltd. (Nasdaq: SSYS), is leading the Next Industrial Revolution by setting the standards in reliable and affordable desktop 3D printing. Founded in 2009, MakerBot sells desktop 3D printers to innovative and industry-leading customers worldwide, including engineers, architects, designers, educators and consumers. To learn more about MakerBot, visit makerbot.com
About Alloys
With more than 30 years' experience in value-added distribution and four showrooms across Australia, Alloys improves the capabilities, profitability and opportunities of SME technology resellers by providing them with a range of nontraditional services. This approach requires the Alloys team to be more knowledgeable and more flexible and to build stronger relationships with their customers, their suppliers and the product solutions they sell. Alloys distributes: 2N, ACTi, BenQ, Brother, Canon, D-Link, DTG, Elite Screens, Epson, Fuji Xerox Printers, HP, IQinVision, Konica Minolta, Kyocera, Leviton, Lexmark, MakerBot, Milestone Systems, Mitsubishi, OKI, Optoma, Panasonic, Promise Technology, QNAP, Samsung, Sony and Verbatim products.
Note Regarding Forward-Looking Statements
The statements in this press release relating to Stratasys' expectations of the benefits that it will receive from its partnership with Alloys are forward-looking statements reflecting management's current expectations and beliefs. These forward-looking statements are based on current information that is, by its nature, subject to rapid and even abrupt change. Due to risks and uncertainties associated with Stratasys' business, actual results could differ materially from those projected or implied by these forward-looking statements. These risks and uncertainties include, but are not limited to: the risk that the benefits that Stratasys expects from the partnership will not materialize, or could be less than Stratasys currently expects, due to technical or other unforeseen reasons and other risk factors more fully explained under the caption "Risk Factors" in Stratasys' most recent Annual Report on Form 20-F, filed with the Securities and Exchange Commission (SEC) on March 3, 2014. Stratasys is under no obligation (and expressly disclaims any obligation) to update or alter its forward-looking statements, whether as a result of new information, future events or otherwise, except as otherwise required by the rules and regulations of the SEC.