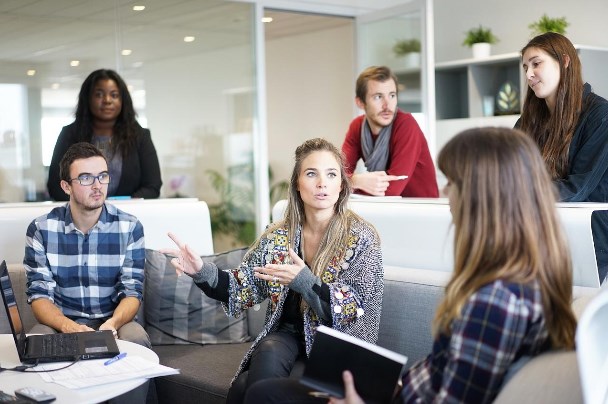 There are numerous reasons why communication is important in any organization. For starters, it increases employee engagement. The last thing you want is for your team members to be unengaged. A disengaged employee will cost a company roughly $3,400 for every $10,000 of their salary. This loss of productivity can stifle your company growth in the long-run.
Moreover, according to one study, companies with effective communication systems have 47% higher returns to shareholders. A strong internal communication system will build a stronger team and solidify your company culture. With this simple arsenal of tools, you can strengthen your business communication, execute internal communication best practices, and scale better than ever.
Team Meeting Checklist
Office employees traditionally waste a substantial amount of time during meetings. Though meetings are important, it's equally as important that every meeting is efficient and timely. With the Team Meeting Checklist, you can outline what other team members can expect from the meetings, as well as how they can be better prepared. From here, you're just running through line items on a predetermined list, allowing you to fly through action items.
There are other ways you can streamline your meeting, too. For example, you might opt for collaborative note-taking with Google Docs, or another digital notebook application. You should also consider quick stand-up meetings when possible; this prevents staff from getting cozy in chairs with a cup of coffee.
Assets
Asset management is integral for thorough and organized marketing, and it's a very behind-the-scenes part of business operations. Asset management has a direct impact on branding. And as you understand, your brand consists of a slew of marketing materials that can be difficult to navigate—especially as you scale and grow. Chances are you have dozens, hundreds, or even thousands of digital assets under your brand belt.
Digital asset management is the process of creating a structure around those assets. For example, if you wanted to create a holiday campaign, you could easily locate your holiday assets. And this is exactly what the Pitch Engine Assets tool aims to help you do. With Assets, your staff and stakeholders have easy access to your brand assets from anywhere. With this platform, you can ensure your messaging is consistent to your branding, which is important for your overall identity.
CultureAmp
Making company goals public is a great way to get everyone on the same page. In business terms, these "goals" and metrics are called Objectives and Key Results (OKRs). These are the metrics used to outline what your business goals are and how you plan to get there. To put together an OKR of your own, think about your objective. This might be to increase store sales by 15% by the end of the year. A key objective might include training 20 new franchise candidates by the end of Q3. Keep in mind that OKRs are different from KPIs, and therefore require a different set of tools to manage them.
That's where CultureAmp comes in. With CultureRamp, you can unravel the relationship between engagement and performance, and transition those insights into actions. Dubbed the "People and culture platform," this tool's overarching goal is to help you build high-achieving, engaged teams. It offers goal tracking, continuous feedback, reviews, powerful analytics, and action planning.
Slack
You might recognize Slack as a chat communication tool, but its features extend much further than standard messaging. Slack makes use of "channels" to support different topics, projects, and groups. But not only does Slack make it easy to communicate across different teams and with individual staff, but it also offers several integrations that build upon its functionality.
For example, you might integrate Slack with Github to receive code check ins and notifications from your software development team. Or, you can integrate with project management tools like Trello. And lastly, you can even spearhead customer support by integrating with a ticketing system like HelpScout. What's more is that all content is easily searchable within a single search box, making internal communication and referencing easier than ever.