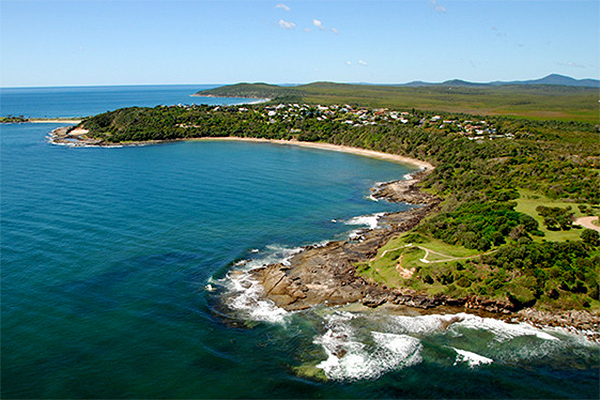 For anyone looking to take a campervan hire australia journey, you would be highly advised to consider stopping through the Clarence Valley region. This golden area is truly one of the most legendary stretches of coast in the country, not to mention the world, featuring hundreds of miles of epic water views, amazing beaches, and an abundance of outdoor activities from watersports to hiking. If your vision of the perfect Australian road trip is sunsets on the water, lush forests, great weather, and water for miles then Clarence Valley is your perfection region and you should plan on spending a lot of time here. You won't regret it.
Angourie Beach
This is Australia's first National Surfing Reserve, and you will see why when you behold the perfect breaks just off shore. If you're an avid boarder, then by all means get out and catch a few since this is one of the most legendary surfing spots in the country, which is really saying a lot. Each year many thousands venture to Angourie to experience these mythic breaks. If you aren't into surfing and are just looking for a nice beach day, then there are plenty of stretches just off the main surf area that are perfect for this with their temperate waters and white sands. This laid back area is known for friendly locals and a funky vibe, so be prepared to spend a day in what many feel are paradise.
Ten Mile Beach
This stretch of pristine, undeveloped beach is truly gorgeous and fully worth a visit. There are some legendary surfing spots that you will want to check out if you're a boarder, not to mention spots for canoeing, swimming, and fishing. This is also a very popular campervan destination with many areas for camping out all over the beach area. The stretch of area by Woody Head is particularly popular for those on a campervan hire australia journey. You can camp out right on the beach, waking up to the waves and taking in the sunsets in the evenings, while spending your days taking part in any of the many activities to be had on this golden stretch of shore.
Grafton Regional Gallery
This is the top cultural spot in the Clarence valley region and a terrific place to learn about the rich history of the area. Here you will find the Prentice House which is a perfectly preserved example of a 19th century residence in the area. The Gallery itself has a collection of over 1,500 works not to mention many traveling galleries and exhibits from around the world. This is known to be one of the most well-curated and architecturally impressive galleries in the country. If you're looking to take a break from the beaches and get some culture, then this is the place to do it.
Maclean Lookout
Since you've been spending so much time at ground level exploring the region, it will do you some good to get up high and check out the view from above. Just a short drive from Ten Mile Beach you can get to the lookout that features an epic view of the entire area from the miles of pristine water, all the way up the coast, to the area inland. You can spot each town, each section of beach, and the major roads of the region. This will give you a good grasp on the area and help you understand the region during the rest of your journey.
Yuraygir National Park
This stretch of wilderness is truly epic and has long been a favorite for campervan travelers. Here you will find unbelievable rock cliff formations, lakes, and unspoiled beaches surrounded by lush forests, wetlands regions, and heaths galore. This is unspoiled Australian wilderness at its absolute finest, and perfect for camping out. There are a variety of campervan spots right in the park that offer the perfect opportunity to camp out on the beaches, in the forests, or even at elevated heights. This park is massive, which means it seems less crowded than other major parks. There is the chance you can spend a leisurely afternoon on an unspoiled beach as the lone visitor. You just can't find this type of opportunity in many other places that Yuraygir National Park.
Anyone looking to experience the golden sunshine, unspoiled beaches, and epic scenery of Australian coast will most definitely want to check out Clarence Valley. Here you can see all the legendary surfer beaches, check out the miles of undeveloped coast, and explore the lush forests of the region. You can take part in any of the dozens of activities in the area or simply enjoy a number of relaxing days on the beach, then Clarence Valley is an absolute must for your campervan hire australia journey.