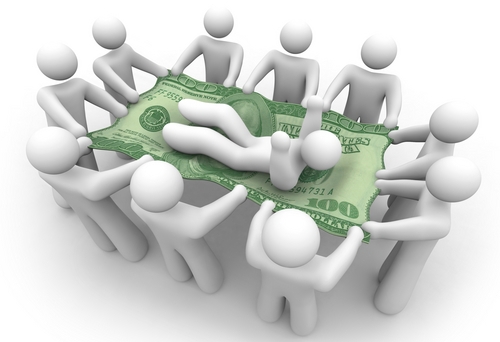 Crowdfunding is a concept that continues to intrigue budding entrepreneurs and business owners of all types. But it's not necessarily a new concept. One could argue that crowdfunding has been around for centuries, even though it's currently looked at as a new industry by consumers by and large.
By definition, crowdfunding is a way to raise money in small increments from large sums of people in an effort to fund a new business project or venture. The fundraising portion of the crowdfunding process typically takes place on the Internet.
Small businesses are having a tough time keeping their heads above water in this difficult, recession adjacent environment. Entrepreneurs are also facing the same struggles. Crowdfunding websites offer these groups a chance to let the entire world know about their businesses and special projects, while providing an opportunity to achieve lasting success.
There are a wide range of
crowdfunding websites
online that entrepreneurs can use to raise capital for their business ventures. Some prominent crowdfunding sites include RocketHub, Indiegogo, and Kickstarter to name a few.
The Driving Force Behind Successful Crowdfunding Campaigns
The main focus of every crowdfunding campaign should be to raise awareness to upcoming projects that would benefit from additional funding. Ideally, entrepreneurs and business owners will create a campaign message that is compelling to readers. The message must draw readers in and get them interested enough to make a financial contribution toward the project's eventual success.
It's best to focus on letting potential investors know why you've created this project instead of babbling on about what you do. People want to know the reasons why your particular project is special to you and why you feel it will be beneficial to the world at large.
Why Is Crowdfunding Such a Relevant Medium Today?
Crowdfunding is more relevant than ever because it helps entrepreneurs and business owners tap into a way to find investment capital that wasn't as readily available in the past. Not that long ago, businesses had little choice but to approach traditional investors in order to gain funding for their projects. Or they could contact venture capitalists and hope for the best.
Today, it's easier than ever to gain funding for your upcoming business project. Crowdfunding makes it possible for the general public to fund your most important campaigns. Interestingly, by creating a crowdfunding page that gets shared online, it's estimated that roughly 25% to 40% of the people that fund the campaign end up being friends, relatives, and current and former colleagues of the people running the campaign.
After a project gains traction and the rest of the world begins to notice others are happily funding the campaign, people begin to seemingly come out of the woodwork to support projects as long as they believe in them.
How to Spread the Word about Crowdfunding Campaigns
One of the easiest ways to spread the word about a crowdfunding campaign is to share it via social media websites like Facebook, Twitter, LinkedIn, or any other sites where the campaign creators actively participate. If you are lucky enough to create a project that people seem to take a liking to, they'll begin spreading it like wildfire on social media and before long your campaign will go viral and you'll achieve massive funding success.
Email campaigns, utilizing local media, and other forms of advertising are also very effective. At the end of the day, it's best to test as many advertising platforms as possible to find out which methods are most effective for your crowdfunding campaign.
Conclusion
Entrepreneurs and small business owners need to look at crowdfunding as the incredible asset that it truly is. It's the perfect way to generate revenue for your company or project while increasing your overall customer base. Plus, you're also helping to aid your country's economic prosperity. So crowdfunding creates a win-win situation for everyone involved.
Author Bio
Wendy Dessler
Title: Super-Connector at OutreachMama
Wendy is a super-connector with OutreachMama and Youth Noise NJ who helps businesses find their audience online through outreach, partnerships, and networking. She frequently writes about the latest advancements in digital marketing and focuses her efforts on developing customized blogger outreach plans depending on the industry and competition. You can contact her on Twitter.
Photo: http://www.outreachmama.com/wp-content/uploads/2016/07/Wendy-Dessler.jpg
Twitter Handle: @outreachmama
Twitter URL: https://twitter.com/outreachmama
Website URL:
http://www.outreachmama.com/